Mongi's Maple Fondue Ride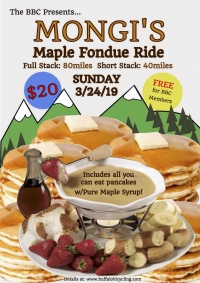 March 24th, 2019 9:00am
BBC Training Event
Sponsor
REGISTER HERE!
Location
6121 Chestnut Ridge Rd, Orchard Park, NY 14127
Cost
$20 Non-members / FREE for BBC Members
Race Director
Steven Mongielo
Marshalls
No Marshalls Assigned
Details
You're invited to attend the 3rd annual, Mongi's Maple Fondue Ride (#MongisMFR)! This scenic and moderately challenging fondo ride will include rolling hills through the southern tier. There is a choice between 80 or 40 mile routes. This fondo is FREE for BBC full members. $20 for non-members. Become a 2019 FULL MEMBER for access to all the BBC training races/rides/events. Additionally, you'll receive free registration for the USAC sanctioned BBCChampionship race this summer! If you're only interested in Mongi's MFR, select "Other Memberships" and purchase BBC Fondo Only. Register at https://www.bikereg.com/buffalo-bicycling-club-bbc-membership The "Short Stack" 40-mile route leaves from chestnut ridge at 10:30am. Heading down to Springville. Arriving at Ploetz's Maple Farm 12949 Dowd Rd, Springville, NY 14141. Route: https://www.strava.com/routes/17230529The "Full Stack" 80-mile route leaves from Cafe Aroma 957 Elmwood Ave, Buffalo, NY 14222 at 9:00am. This route will rendezvous with the short stack route at chestnut ridge and then proceed to Ploetz's Maple Farm 12949 Dowd Rd, Springville, NY 14141. Route: https://www.strava.com/routes/17230451At Ploetz's Maple Farm riders will get a tour of the sugar shack, and a chance to refuel there on all you can eat pancakes with PURE Maple Syrup! NOTE: This ride is NOT supported! You are responsible for bringing your own supplies, tubes, food, hydration, phone. There is NOT a sag wagon. Participate at your own risk. CANCELATIONS: If the weather is too severe (snow/freezing rain), this ride will be rescheduled for the following Sunday 3/31/19. Riders registration will transfer or a full refund will be offered.