Bike Boy Racing Powered by CoolTac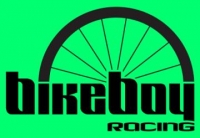 Team Sponsors
Advanced Care Chiropractic
Brio Pizzeria & Restaurant
Champion Systems
Cool Tac
Intergrow Greenhouse Inc.
Lewiston Village Pub
Massage Center of Niagara
Zeeter's Outdoor Stuff
Team Website:
http://www.bikeboy27.webs.com
Team Captain:
Don Felice
Details:
Welcome Back for 2011 ! Our only Northtowns Team . Bikeboy Racing has grown over the first 2 seasons to 25 riders . Bikeboy will have a Team in the Team Series for the first time , Lead by Dirk Biemans , look for the Green and Black at the front of the pack talkin smack.......Ride safe everyone ....
BBR and the BBC would also like to present
The Tour of the Great Niagara Sunday Sept 11 2011 8:45am
Lewiston's Premier Cycling Event
USCF Race
Men 4 / Women 3
Men 5 / Women 4